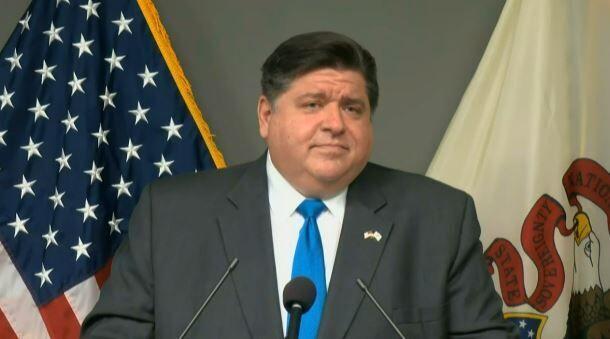 SPRINGFIELD, IL — In light of a recent increase in COVID-19 cases across Illinois, Gov. J.B. Prizker on Monday announced the launch of a new $5 million campaign to encourage mask use. 
Last week, the Illinois Department of Public Health reported at total of 10,597 new cases. That's the largest increase since late May, the Associated Press reports. 
Titled "It Only Works If You Wear It," the campaign includes TV and streaming audio and radio ads, as well as billboards, digital display and video and social media ads. The governor's office says the costs related to the $5-million PSA campaign are reimbursable by the federal government. 
The ads compare wearing masks to protect against COVID-19 to other steps people take every day to protect against other day-to-day risks, such as wearing seat belts while driving and helmets while cycling, or wearing a life jacket while on the water.  

Pritzker said the state is not asking Illinoisans to wear masks indefinitely, but "for the time being, until we see a very effective treatment or a vaccine, the best way to safely get to the other side of this emergency is for all of us to follow the mitigations recommended by doctors."
In an announcement about the ad campaign, Illinois Emergency Management Director Alicia Tate-Nadeau said wearing masks can help prevent Illinois from reverting back to previous phases in the state's plan to reopen the economy. 
"If we continue on the track we're on, we'll need to look at bringing back some restrictions that we've seen over the last few months," Tate-Nadeau said. "Nobody wants that. We haven't seen enough people wearing face coverings and following the rule we put in place on May 1. If more people do their part by wearing a mask in public, we can move forward, not backward. Let's go all in, Illinois."
The Illinois Department of Public Health announced 1,298 new COVID-19 cases Monday, as well as 10 new deaths. As of Sunday night, 1,418 people in Illinois were reported to be hospitalized with COVID-19, including 347 in intensive care units. IDPH reports 132 patients with COVID-19 on ventilators.
To date, IDPH reports a total of 183,241 cases in Illinois, including 7,526 deaths. The public health agency says the preliminary seven-day statewide positivity rate from July 27 to Aug. 2 is 4%.