FRANKFORT, KY — Kentucky had 421 new COVID-19 cases and four additional coronavirus-related deaths Thursday, according to state public health officials. 
The Kentucky Department for Public Health also reported the state's COVID-19 test positivity rate is now 2.51%. 
The state's overall incidence rate is 6.21 cases per 100,000 people. That puts Kentucky in the yellow zone, which indicates community spread of the novel coronavirus, but not an accelerated (orange zone) or critical (red zone) rate. According to the latest map from KDPH, the Local 6 counties of Ballard, Carlisle, Hickman and Crittenden are in the green zone, meaning they are "on track" in the fight against the pandemic. The rest of our Local 6 counties are in the yellow zone.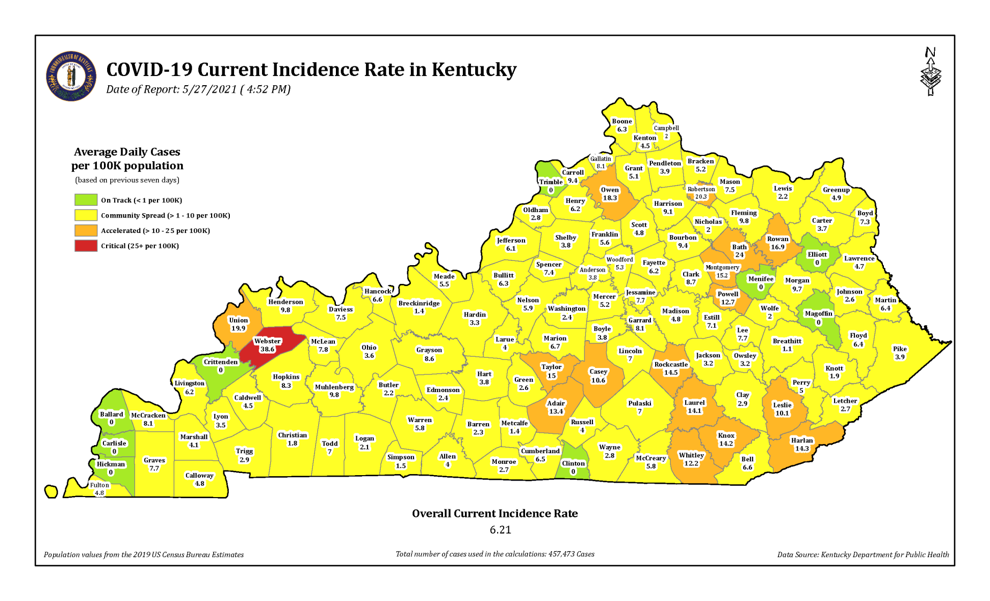 Of the deaths announced Thursday, two were reported to the state by health departments, and two were uncovered through the state's ongoing audit of death certificates listing COVID-19 as the cause of death. 
KDPH reports 328 Kentuckians are currently hospitalized with the potentially deadly illness, including 96 in intensive care units and 50 on ventilators. 
To date, Kentucky has had 457,482 known COVID-19 cases, including 6,748 deaths. 
Gov. Andy Beshear note in a tweet Thursday that more than 2.02 million Kentuckians have received at least one COVID-19 vaccine dose. The Pfizer and Moderna vaccines each require two doses for full vaccination. The Johnson & Johnson vaccine requires one dose. 
For more information on COVID-19 vaccine providers in the Local 6 area, visit our COVID-19 vaccine guide. You can also search for vaccines near you at vaccines.gov.