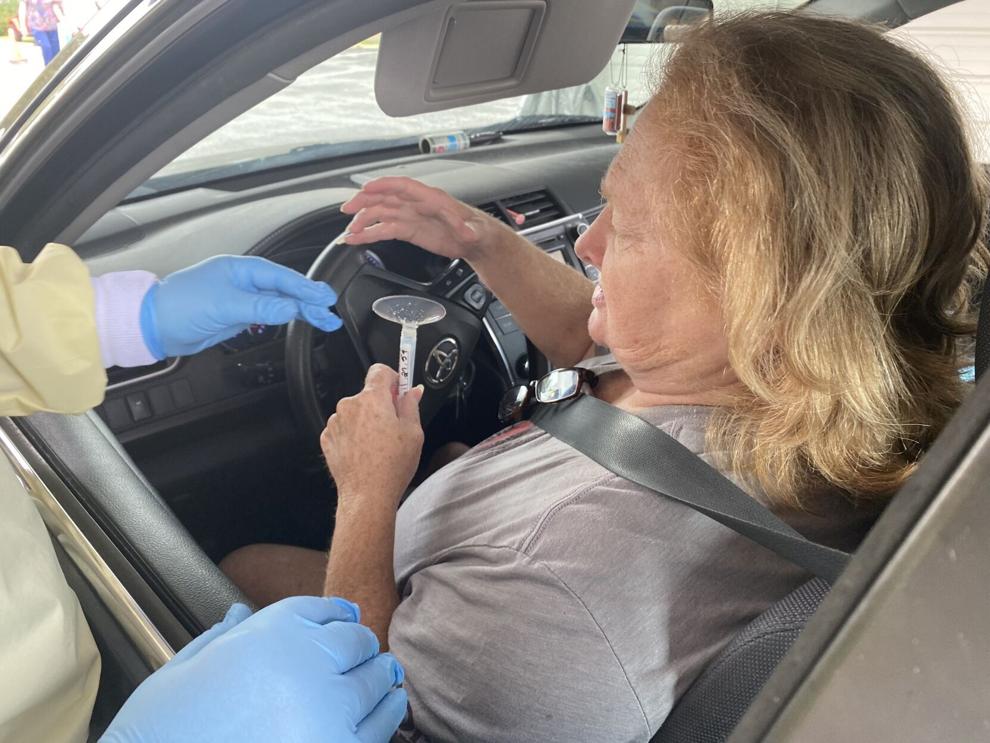 MASSAC COUNTY, IL — When you think of a COVID-19 test, the first thing that comes to mind is likely the nasal swab test. 
It's not the most comfortable test. 
However, testing has gotten a lot easier in Massac County, Illinois, with the introduction of free saliva COVID-19 testing. Massac Memorial Hospital is now offering noninvasive saliva tests for COVID-19 five days a week. 
Peggy Tapley was able to receive a free saliva test without a doctor's order on Monday. Tapley was directly exposed to someone with COVID-19. The accessibility of the test is a plus for the community. 
"You just spit into a vial," said Janet Vannatter, Massac Memorial's chief operating officer. "It's sent off to the lab; you get results within 36 to 48 hours." 
The test was created at the University of Illinois at Urbana-Champaign. 
Its biggest draws? You only need saliva, it's cheaper than a standard test and has a shorter turnaround time. 
Massac Memorial Chief Medical Officer Dr. Jonathan Walters said the saliva test is highly accurate at detecting COVID-19. 
"Now if there's a fear of getting tested, a fear of having my nose/brain probed," said Walters, referring to the uncomfortable sensation associated with nasopharyngeal swab tests. "Now, maybe this is a way that we can get this done and you can get some results." 
Tapley said she will take a saliva test over the traditional one any day. 
"The other one's faster, but this is easy," Tapley said. 
The saliva test is called covidSHIELD. 
The program that creates the tests said more than 4 million covidSHIELD tests have been processed at three university of Illinois campuses. 
At Massac Memorial, testing will be available from 8 a.m. to 3 p.m. Monday through Friday in the hospital's respiratory tent.
If you want to have a saliva test, you must refrain from eating, drinking — including drinking water — and using any form of tobacco products for one hour before testing.
The tests are from the University of Illinois System's SHIELD. Illinois program. Test results will be posted to the individual's SHIELD portal. Click here to register.