Even as they were rushed out the door on the last day of school, Maple Grove Elementary School students wanted to talk to principal Jeff Dufour about their last few hours of school.
That's one of the aspects he'll miss as he retires from the Joppa-Maple Grove District 38 on June 17.
"It's been a blessing to be in the district. I've enjoyed every second — working with the board of education, the community and, most of all, the students," Dufour said on Thursday, May 27. "Working with Dr. Artman's been one of the highlights of my career, as well as being able to come home and serve the students of the community."
Dufour's journey into education didn't take the usual path.
He spent 20 years in the Marines, retiring in 2000 as a gunner sergeant with the rank of E7. For his second career, he contemplated law and even got accepted to law school in Lansing, Michigan. Instead, he deferred his enrollment for a year and went to work for a law firm.
"I loved the work and working with clients, but I decided after six months it wasn't what I needed to do," he said.
Instead, he decided to go into education. He had gone back to school the last three years he was in the Marines, from 1997 through 2000, attending Campbell University on nights and weekends to get his bachelor of science degree. When he started teaching, he pursued his master of arts in education from East Carolina University from 2010-12. After getting his masters level principal licensure from Lamar University, he started his doctor of education degree from Liberty University in 2014 and finished in 2018.
"Enlisted guys never get doctorates. I'm kind of an anomaly," he said with a laugh. "I decided long ago I always wanted to go back to school."
And for the last 20 years, he has. Dufour started teaching at the middle school level (sixth- through eighth-grades) for about five years before moving to the high school level for six years. The remaining years have been at the administrative levels between elementary school and high school. He was an athletic director at a 4A school in North Carolina for about 18 months before spending the next five years as an assistant principal at two North Carolina schools.
"There's not a lot of administrators who've had pre-K through 12th-grade experience, and I've had that. I think that's been a benefit to me," Dufour said, noting J-MG is "not where I saw myself five years ago. I know that goals change. I looked at a variety of positions in a variety of places and decided that I wanted to be closer to home. I've always had an idea I wanted to get back home. Although it was through difficult circumstances, it was a good thing. The Joppa school district was a great fit for me."
Superintendent Vickie Artman said Dufour has been a good fit for J-MG.
"Dr. Dufour has been a tremendous leader," she said. "His positive personality and devotion to building relationships with people are truly inspiring. We are very grateful for the impact he has made at Joppa-Maple Grove and wish him the best in his future endeavors."
Dufour joined the J-MG family in the 2019-20 school year as the physical education teacher at Joppa Junior/Senior High School, "which is a good thing because you really get to know the students As an administrator, you're not in the classroom with the kids every day, so it's kind of difficult. It allowed me to solve a lot of issues (this year) within the building at the junior high and high school level because I knew the kids individually; it just worked."
He was hired as the principal of Maple Grove Elementary School and Joppa Junior/Senior High School on May 7, 2020, on a three-year contract, beginning July 1, 2020, for the 2020-21, 2021-22 and 2022-23 school years.
" 'Why did I want to become principal?' " he repeated with a heavy sigh, followed by a laugh. "I wanted to do it because I think that when you're a leader, you want to have a bigger impact on a larger amount of people. I've always said since the beginning of the year that I'm student driven, and I imparted that wisdom to the faculty and staff members: Students are our No. 1 priority. We all have issues, but they come to school with issues as well (and are) finding a way to work through those."
And that is one place where Dufour said he thinks his Marine background was helpful.
"As a young Marine, you're always put in leadership roles and leadership positions, and you look for ways to get things done," he said. "People look at whether you have an authoritarian leadership style or a persuasive leadership style or a variety of different styles. I think you use a style that suits you best. And I think you have to use a style that is approachable with the students and with the staff because they're what we're here for.
"I've worked with a lot of leaders in the military and in education where it's kind of their way or the highway, and I don't believe in that. I think when you're having an issue, whether it's good or bad, it takes a group consensus — it takes vying from the teachers, vying from the parents and vying from the students — to get things done," Dufour continued. "One thing I've enjoyed this year is we've had a variety of students who've done well, we've had some who've had issues and after those issues are over, sitting down and talking about it and ensuring they understand there's a process and a way to do things and a way to be respectful — I think once you do that, you're teaching them not only lessons that count in the classroom, but lessons that when they become young adults they can take out into the world, and that is huge."
In the classroom, "we've had a lot of student successes this year — students who have never gotten awards, students who have struggled who found a way through persistence and encouragement from their teachers and parents that they could do it — that's what I've enjoyed the most," Dufour said. "That's the part I'll miss — that interaction. I became a principal so I could have a bigger affect."
Dufour said his elementary background helped at Maple Grove.
"Although I wasn't at Maple Grove last year (2019-20), I knew some of the teachers at a distance, and I understood the process," he said. "I always say, if you're having a bad day, come down and see the first-graders and kindergarteners — they'll definitely change your view."
When Dufour began working at J-MG, there were a few things he wish-listed for the school system. They arrived in an unexpected way.
"I think one thing COVID has done for us is through all the ESSER grants and everything that's come down from the state and the federal government, it's allowed us to grow as a district exponentially in a short amount of time," he said. "Dr. Artman has been amazing in her grant writing ability and her ability to get technology. That was one of the things I was concerned about when I arrived as a teacher. I hadn't been in a distinct in the last 10 years that wasn't one-to-one. Coming here, we weren't even close. But in a year, we've gone from struggling to get devices to being one-to-one in pre-K through 12."
Next on the list was the implementation of Google Classroom within the building.
"That was something I had done district wide in my last district," Dufour said. "It was something when I came here, a handful of people were using, but (through COVID) we embraced the platform. A lot of our meetings were on Google Meet this year; everybody got comfortable with it."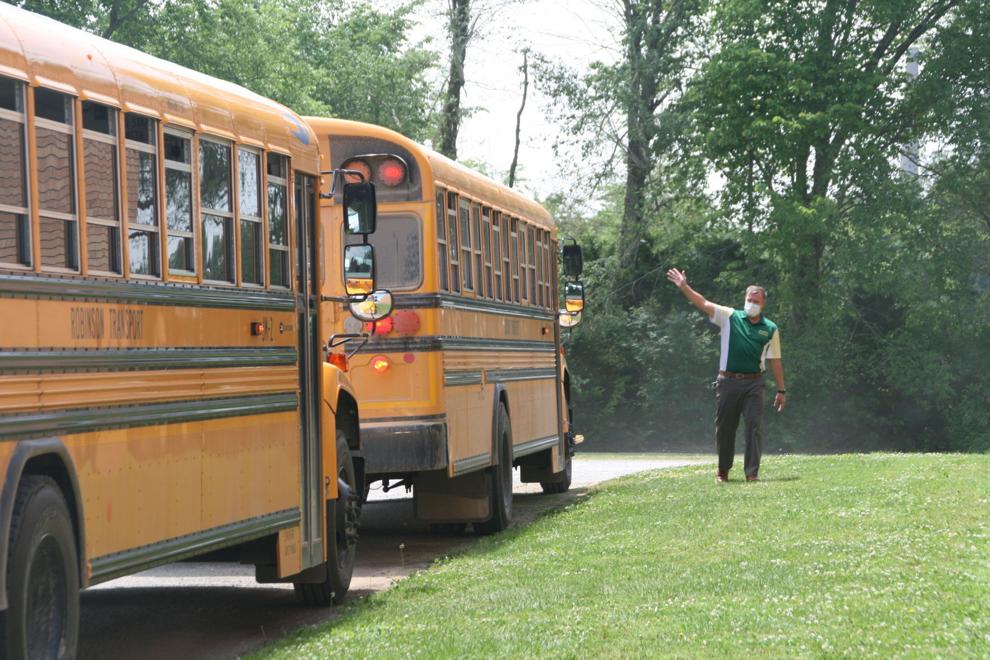 The district also gained a different level of trust with its community.
"The first part of the (school) year, we had a number of students at both buildings who were remote learners," Dufour said. "As the year went by, they became less frequent because parents and the community understood we were doing our due diligence as a district to make sure we kept their kids safe and not sick. We saw that trickle down to just a handful at the end of school."
He noted that while COVID had "a lot of pluses, it's been a difficult year. Wearing a mask isn't an easy thing. Our teachers gave mask breaks every period. We were doing things that kept kids separated as much as possible," he continued. "As restrictions have eased, we've eased up our restrictions based on what (the Illinois Department of Public Health and the Illinois State Board of Education) have put out. We had high school, junior high, pre-K and kindergarten in-person graduations. Hopefully going forward, the guidance will come out this summer on what next fall is going to look like, but I've been very pleased with the parents with their understanding and willingness to support the district."
For Dufour, his roots are in Massac County and this is where he intends to stay.
"I'm not going anywhere. This is home, I'm staying here," he said, noting there have been rumors he's moving back to North Carolina. "When I came back here, I came to Metropolis. Metropolis has always been home for me."
Dufour was born at Massac Memorial Hospital and raised in Metropolis until he was 5 and his family moved to Paducah because his father worked at the Coca-Cola plant.
His grandparents — one set on Second Street, the other on Fifth Street — grew up and remained in Metropolis — "my grandpa was mayor-pro tem years ago; my grandma worked for David Phelps and Glen Poshard, both state senators, for 30 years. My cousins are in Metropolis and my sisters in Paducah," Dufour said. "It's home. It's nice being back. It's definitely a blessing."
And while he's decided to retire, Dufour's heart remains in education. After taking the rest of the year off after June 17, he has adjunct work and professorships lined up at a couple of universities , which is something he can tie in with traveling.
"That's one of the reasons I got my doctorate," he said of being able to work in the university level.
But there is something about those kids, whether they're kindergarteners or high school seniors.
"I started teaching and have thoroughly loved it, embraced it — making a difference in a child's life and being able to communicate that to the students and the parents is something that I've enjoyed the most," Dufour said. "Seeing students grow is also something I've enjoyed seeing, especially with the senior class. They had a lot of obstacles put in their way — as did all of our students — but I was proud they all stuck with it, they all listened to the guidance of their teachers and their parents that made them be able to walk across the stage.
"It's always your goal — you don't want to see kids fall through the cracks, and I think all too often in different districts that happens. The nice thing about having a small district and a community school like we have is you're able to give that extra attention, that extra opportunity for them to improve and that opportunity for them to be encouraged," he continued. "I think all too often we, even educators, get consumed with the rat race and doing different things. It's nice here that we're able to put that personal touch on things. (Guidance counselor) Penny Bellamy has been instrumental in making sure students were guided at the junior high and, especially, at the high school level for their success. All the staff from my year as principal have been very encouraging and supportive. I wish them well."
Dufour also wishes the best for his former athletic director.
"I am glad Hunter Kreuter has been appointed the principal," he said. "I think he'll do a fine job. He's got a great reputation within the community and the county. He's been doing this for a long time. I think he's going to serve the district well."